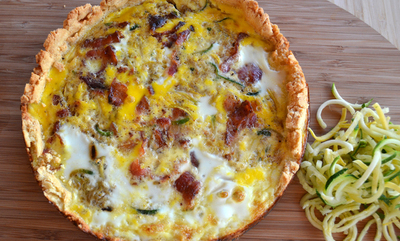 First off, let me talk to you about a little friend of mine called Spiralizer. It's da bomb– and I don't use that term lightly.
Spiralizing is my new hobby. It's a healthy hobby which means that I eat way more vegetables. If you're not familiar with how it works, you put a vegetable on a a machine like this one, turn the crank and the blades will cut your veggies into noodle shapes.
It's perfect for hiding veggies in foods and for making salads.. in fact, I'll be sharing a few more tutorials over the next several weeks with my favorite ways to use it!
Read more: http://homegrownandhealthy.com/bacon-squash-quiche/#ixzz35cMH12pw

From: homegrownandhealthy.com